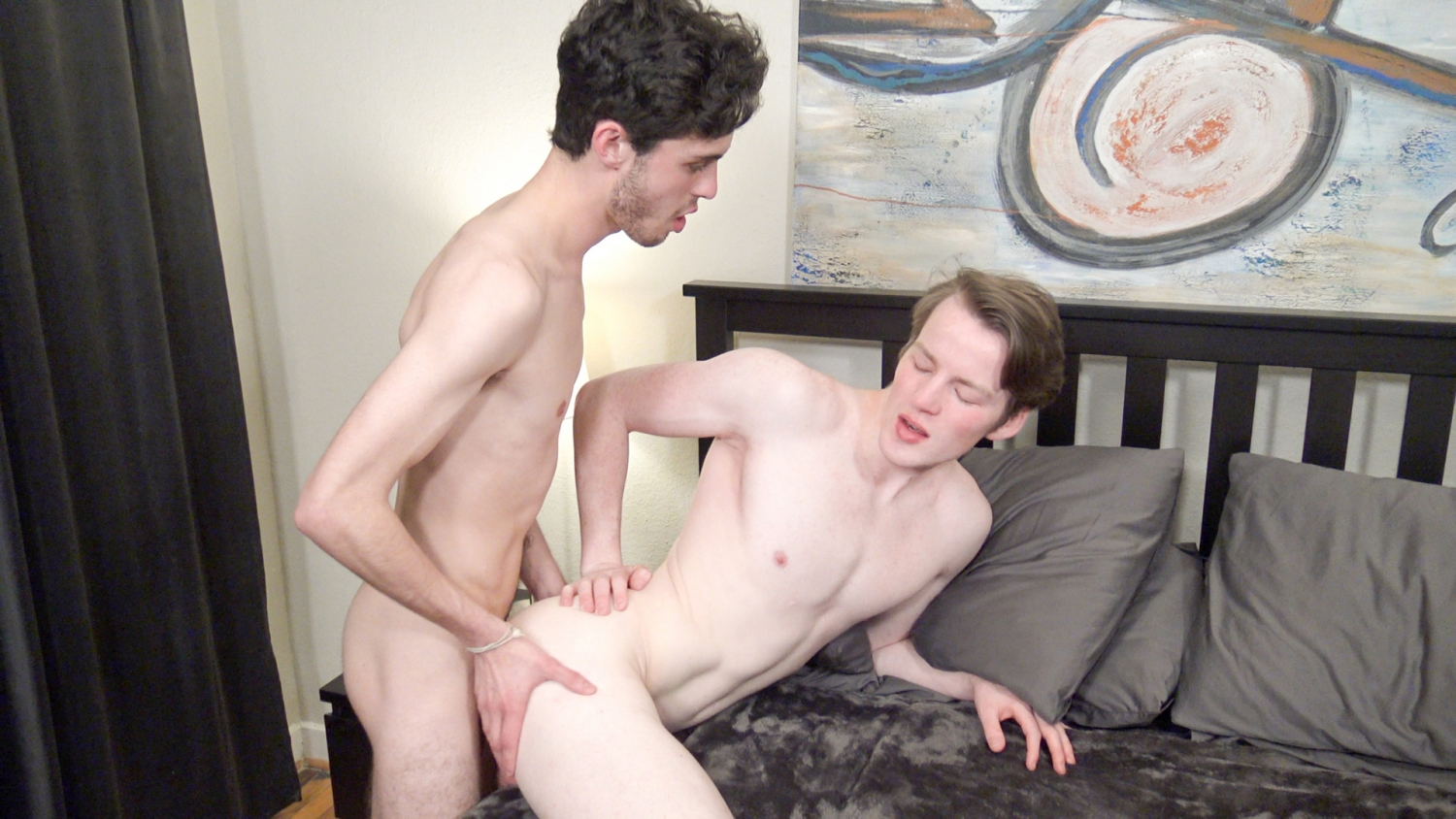 Julian Waits & Tad Tyler BAREBACK
Jason Spark's ever-sexy American road trip stops off in Georgia this week and pairs relative newcomer, Julian Waits with first timer, Tad Tyler. Julian is a classy-looking bottom boy, tall, with dark red hair and a pale, freckled body. Tad is a handsome, skinny Twink with dark hair, come-to-bed eyes and a long, long cock!
Tad confesses to ...
[Read more]
Tad confesses to liking risky sex. He says he's had sex in broad daylight in a car. He's excited by the idea of making out on camera and doesn't seem at all nervous about doing it for the first time.
The two boys stand. Tad pulls Julian into him and they kiss passionately and sensuously. Tad may be new to porn, but he's clearly an experienced lover. There's an immediate and intense chemistry between them. Their tongues dance. Tad gently kisses Julian's body.
Now naked, Tad sits on the edge of the bed and moans appreciatively as Julian slowly sucks him. Julian is a talented bottom. He knows exactly what he's doing and instinctively knows how to push every one of Tad's buttons. He wraps his lips around Tad's swelling dick, sucks it hard, then takes it deep down into his throat.
Before long, Julian is lying on the bed with Tad between his legs. It's Julian's turn to be pleasured, and Tad keenly obliges, wrapping his fist tightly around the red head's cock as he sucks him. Julian lies back on the bed, moaning deeply, enjoying every moment.
Before long, Julian is squatting on the bed, ass pointing towards Tad, demanding attention, desperate to be prepped for fucking. Tad dutifully gets his tongue right inside, licking and caressing the bottom boy's tight, expectant hole.
A fuck is inevitable. Tad pushes Julian down onto the bed and unceremoniously shoves himself inside from behind, immediately starting to thrust at almost bewildering speed. He whispers in Julian's ear, telling him how good his ass feels, before hammering him, balls deep, with that long, sexy cock. The two boys' bodies fit together perfectly as they make love.
Julian kneels up and Tad continues to bang him. Julian, now in deep pleasure, angles himself slightly so that he can kiss the man who seems intent on destroying his ass!
Julian gets onto his back on the edge of the bed and holds his legs apart. Tad stands, and fucks him with increasing intensity and speed. He slows down, builds the pace, slows down again, then goes full tilt, hammering the redhead, machine-like and balls deep.
There's a hiatus as Tad, still deep inside Julian, leans over and kisses him like a lover, before slowly building up the speed until he's fucking harder and faster than ever before. Julian continues to jerk his rock hard, now red-raw dick.
Tad suddenly pulls out. He yells and explodes before letting his sticky cream drip all over Julian's stomach and cock.